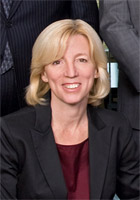 Kim Simonis is our "Office Manager," and she keeps all of us in line. It is no exaggeration to say that our law firm would not function very well without her. Kim has worked in the legal field since 1981, initially as a legal secretary and later as office manager for a solo practitioner in Scottsdale.
Kim started working with the lawyers of MWMW in 2000, while all of us were at Fennemore Craig, P.C. in Phoenix, where she worked as a secretary and legal assistant.
Today, Kim manages our office, handles our billing and accounting, and assists all of us as a paralegal and as a legal secretary when necessary. Kim is married to Ron and she is the mother of two sons.
Contact
Phone: (480) 615-7500
Email: ksimonis@mwmwlaw.com